Chicago Magician for Adults
Amazing Magic and Clean Comedy For All Occasions.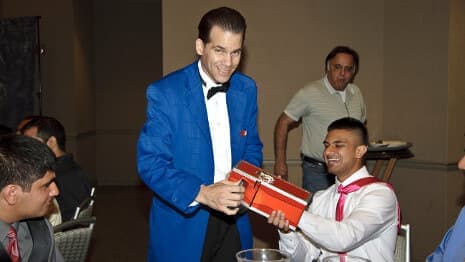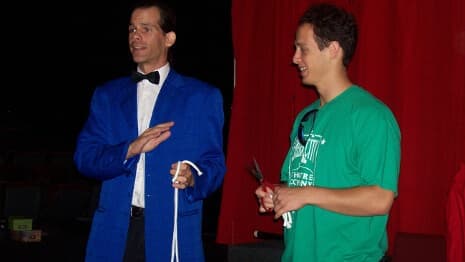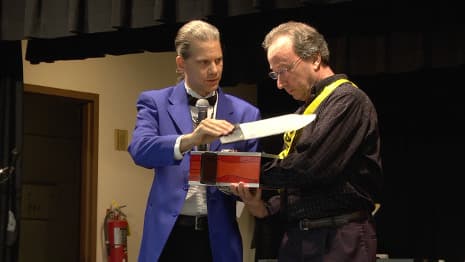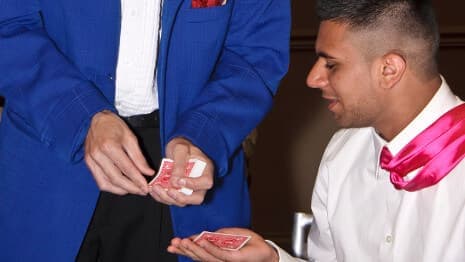 More than a magician, with a lifetime of experience in magic, and a background in theater and improvisational comedy, our expert magical entertainer and funnyman has the skills to engage and entertain any audience!
His quick-wit and playful on-stage personality makes him a favorite at countless private parties and public events throughout the greater Chicagoland area.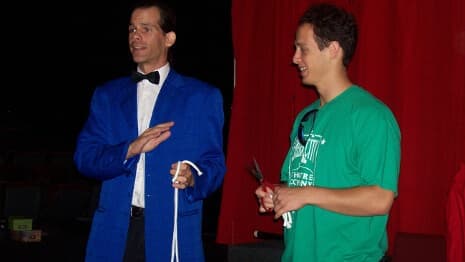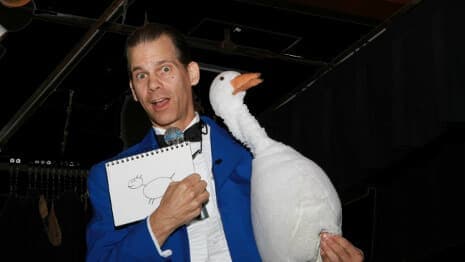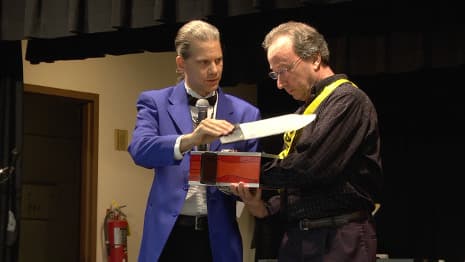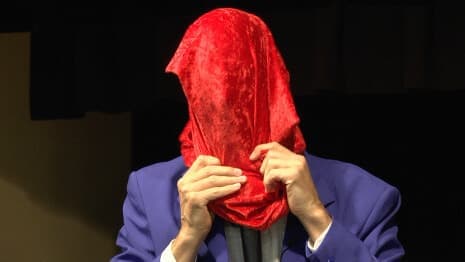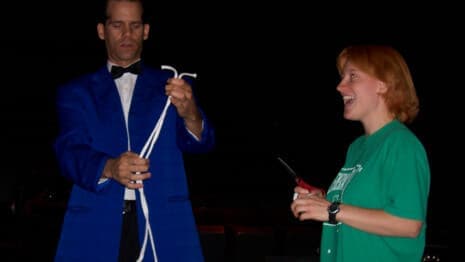 Not your ordinary magic show, this interactive comedy magic experience gets your guests involved and keeps them laughing!
Your guests are the key players in the Fun as:
"The Mind-Reading Goose" Reads Spectators Minds! (Ridiculous & Incredible)
"Slice of Hand" An Audience Member's Hand is visually Removed from their Arm!
"Mr. Magic" A Volunteer is Transformed into a Magician and Performs Amazingly Funny Magic!
"Super Mental" The Magician is magically Transformed into a Super Hero chosen by the audience!
"Not-So-Straight" Jacket Escape A Great Escape Act that will have everyone Laughing & Amazed!
"The World's Most Dangerous Card Trick" (A Deck of Cards/An Audience Member/A Mousetrap)
PLUS MANY MORE MAGICAL SURPRISES!
This one man stand-up comedy magic show is a guaranteed hit that will keep your guests charmed and captivated!
What Clients Are Saying About Our Comedy Magic Show
"Thank you for a terrific magic show. It was everything we hoped for. Everyone enjoyed it a lot."

Eric P., Naperville, IL
"We thoroughly enjoyed the Magic Show! You were great and put on a fantastic magic show. Highly recommended."

Margie M., Crystal Lake, IL
"The magic show was Great! Everyone Loved it! We all had so much fun!"

Pat & Carter M., Gurnee, IL
"Just a note to say how much we enjoyed the magic at our holiday party. You were able to engage the whole group and made us all laugh. You helped to make the event a success."

Barb L., Rosemont, IL
"It was great working with you! The guests really enjoyed your performance. Thanks again!"

Jenny A., Chicago, IL
"Your magic show was just delightful. The magical tricks and your wonderful humor were truly enjoyed by all."

La Verne R., Lake County, IL
"Thank you for the wonderful magic show!"

Bridget L., Aurora, IL
"I just wanted to personally thank you for a great performance. The show was a hit. Thank you again!!!"

Yasmeen S., Arlington Heights, IL
"I just wanted to let you know that we loved the performance! We all had a great time. Thank you so much!"

Rachael G.,La Grange, IL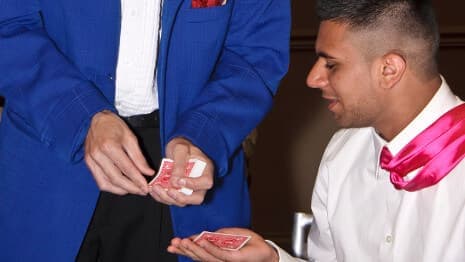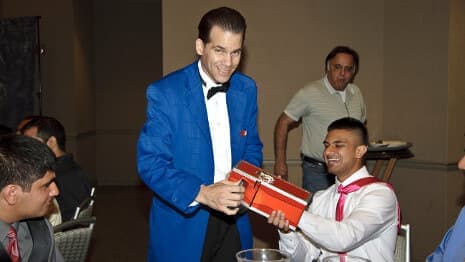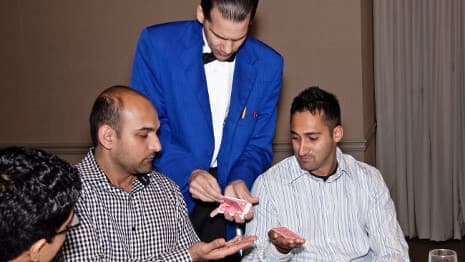 Our magician makes sure your party guests start having fun right away as he works the crowd, "mixing and mingling" from one group to another. Your guests are entertained with skilled sleight-of-hand magic, mind-boggling mentalism, and tasteful humor. Everyone becomes key players in the fun as playing cards appear and disappear, minds are read, a pencil pierces a borrowed $100 bill without leaving a hole, and a party guest's diamond ring disappears, then reappears, safely clipped to our magician's key ring!
Close-up Magic Performance Options:
Whether performing Mix & Mingle Magic or Table-side Magic, for small groups of guests at a time, or a Formal Close-up Show before the whole gathering, our magician will fill the room with laughter and gasps of amazement!
MIX & MINGLE MAGIC
For events where guests will be mixing and mingling, your magician will mix and mingle with them. The magician will move freely around your event, performing intimate 5-10 minute "mini" magic shows, for a few people at a time. This is a great choice for entertaining at larger events (groups of 60 or more).
TABLE-SIDE MAGIC
For events where guests will be seated at tables, your magician will entertain each table with their own "mini" magic show. The magician moves from table to table (typically before or after a meal), where guests are seated. He performs a 5-10 minute mini magic show at each table. This is an ideal entertainment option for larger events (groups of 60 or more).
FORMAL CLOSE-UP SHOW
The magician sets up a small table and your guests sit in chairs, up close, in front of the magician. He performs a 30-45 minute close-up magic show for the entire group. This is an ideal performance option for smaller gatherings (groups of 50 or fewer).
What Clients Are Saying About Our Close-Up Magic
"Just a note to say how much we enjoyed the magic at our holiday party. You were able to engage the whole group and made us all laugh. You helped to make the event a success."

Barb L., Rosemont, IL
"It was great working with you! The guests really enjoyed your performance. Thanks again!"

Jenny A., Chicago, IL
"Your performance was a real crowd-pleaser. Your magic was delightful. You had the crowd gathered around you throughout the event. The great participatory tricks instantly loosened up our crowd and got them mingling. Your sleight of hand had everyone in attendance mesmerized."

"The Auxiliary Board highly recommends you and will definitely be using you for future events. You were an integral part of creating two successful charity events."

Nicole H., Chicago, IL
"Your magic was just delightful. The magical tricks and your wonderful humor were truly enjoyed by all."

La Verne R., Lake County, IL
"I just wanted to let you know that we loved the performance! We all had a great time. Thank you so much!"

Rachael G.,La Grange, IL